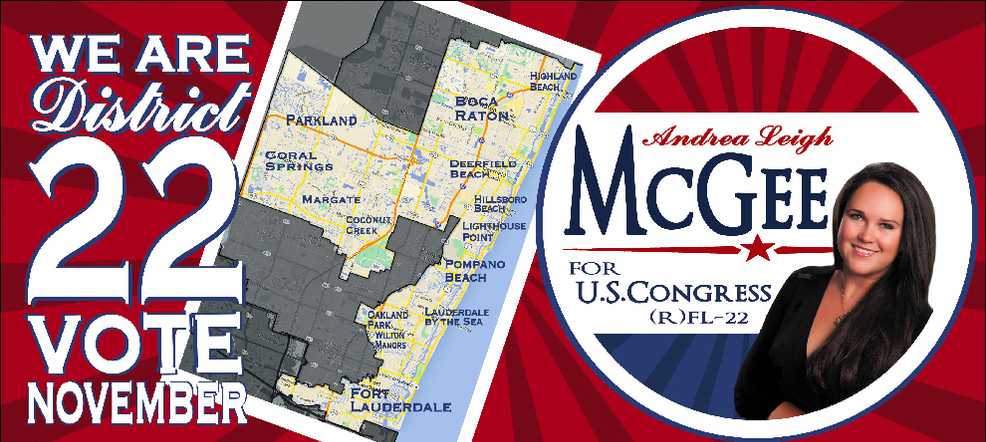 Ft. Lauderdale, Oakland Park, Wilton Manors, Pompano Beach, Margate, Coral Springs, Coconut Creek, Lighthouse Point, Parkland, Deerfield Beach, Boca Raton, Hillsboro, or Highland Beach, pay attention!
After reaching out to candidates for Florida's 22nd congressional district with questions, Ted Deutch has yet to reply. After a week of waiting, I've decided to publish the response I did get. Here's what Andrea Leigh McGee had to say.
Me: My first question — What do you want to 'do' in congress, aside from 'be' a congresswoman?
McGee: I want to bring fresh eyes to many of the messes that we're dealing with and brainstorm actual solutions that will benefit Americans in the long term. I think a major problem we are seeing right now is elected officials who made a career out of politics who are no longer in touch that with the day-to-day lives and concerns of Americans. I am not an establishment candidate and I am not backed by big money donors. I get to go in there with only my constituents to answer to. Additionally I would like to use the position to turn around and try to better inform the public about policies we are voting on as much as possible. The media right now is so much more concerned with sensational stories and ratings that they're not taking the time to give us the facts.
Me: Your website advocates lower taxes for businesses to stimulate job creation. How would you offset the revenue loss to make sure the tax burden isn't shifted onto lower income Americans?
McGee: To offset the lower taxes my goal is to identify and eliminate redundant and needless government spending. I believe that by looking at spending line by line we can find bureaucracies and programs and much more that can either be cut out or at the very least put on hold until our debt comes down and our job market and economy is more stable.
Me: You mentioned cutting spending as a way to offset lower taxes. As an incoming freshman, obviously, no one expects you to have full visibility into the federal budget. But do you have at least some idea where you'd like to cut spending?
McGee: Yes, as a freshman I will be somewhat limited but I know I will have more visibility then I have currently. One of things I would like to support is the penny plan where we just cut 1% across-the-board. That's one penny from every dollar spent. Just to start to stop the bleeding. I then would like to focus myself and my team on going through expenditures, line by line, and bringing to light expenditures that seem obvious and easy to cut or at least put on hold.
Me: I agree with your position on better training and support for our veterans. Would you extend that to our men and women in law enforcement? If so, how?
McGee: I would. As far as specifics I would want to meet with law-enforcement agencies before locking down a solid plan. But in a general sense I think continuing education in both physical and psychological tactics could be a great start.
Me: You seem to be a big advocate for bringing back manufacturing. How plausible is that with a rising minimum wage, given that Americans already need to be paid significantly more than workers elsewhere in the world? How, exactly, would you encourage growth in that sector?
McGee: I believe that lower and more competitive corporate tax rates along with renegotiating trade deals to make sure that imports don't drown out domestic products with lower prices is how we start to allow manufacturing to come back to this country. I think a lot of American businesses would rather manufacture at home as long as it's financially doable.
Me: Last question — What kinds of work did you do before going into politics?
McGee: I was a political science and motion picture production double major in college. After graduating in moved to Los Angeles and worked on the production side of film and television until the writer strike dried up work. I then moved to Washington DC where I worked in commercial real estate acquisitions and development until the economic collapse of 2008. I returned to South Florida in '09 for grad school. I have been working locally as a real estate agent since 2013. Politics has always been a passion and study of mine. I never thought I would run for office but I became frustrated with being frustrated and want to make a change for the better and for the long term good of our country.
---
Michael Patrick Lewis is a teacher, and bestselling author of Edge Of God, and Preferred Rewards. He also has the best wife in the world, but she doesn't eat kale, either.